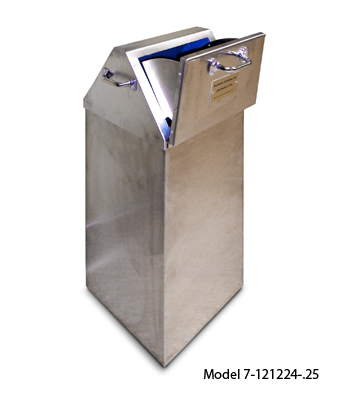 Shielded Waste Containers
Our Shielded Waste Containers are used for the rapid and safe disposal of small radioactive materials, such as gloves. The unique lid with a hinged-door is designed to shield the employee from the contents of the container even when the lid is open. Two lifting handles make it easy to remove the top to empty the decayed contents.
As with all of our products, we will be happy to design and manufacture a custom shielded waste container to meet your exact specifications.


Any thickness of lead shielding


Any size


Custom designs available


| Model Number | Dimensions (in.) | Lead Shielding (in.) | Finish | Weight (lbs) |
| --- | --- | --- | --- | --- |
| 7-121224-.25 | 12w x 12d x 24h | 0.25 | Stainless Steel | 140 |