DISPENSING
HOT CELLS
Ultraray Radiation Protection is a leading manufacturer of high-quality, economical dispensing hot cells for the quality assurance and dispensing of PET and other radiopharmaceuticals
Ultraray Radiation Protection Hot Cells are constructed of machined sheets of solid lead that are reinforced with steel. The sheets of solid lead can be of any thickness. The thickness of the lead can vary from one side of the hot cell to the other. If there is not an occupied space above the hot cell, the hot cell can be manufactured without lead shielding in the top to reduce the cost.
While we offer standard dispensing hot cells, our clients typically require custom features. Most of the hot cells that we sell are custom in some respect, and that is fine with us as we enjoy designing and manufacturing products that meet the exact needs of our clients.
TYPICAL DISPENSING
HOT CELL SPECIFICATIONS
Ultraray Radiation Protection can manufacturer Dispensing Hot Cells to your exact requirements. We also provide complete turnkey Nuclear Medicine and Radiopharmacy construction as well as systems and technology development..
Product Information Sheet
Typical Dispensing Hot Cell Specifications
Inside
Dimensions
(in.)
Outside
Dimensions
(in.)
Shielding
(in.)
Front
Door
(in.)
Side
Door(s)(2)
(in.)
Window
Dimensions
(in.)
Accommodates
Manipulators
Weight
(lbs.)
42w x 36d x 38h
50w x 47d x 77-89h(1)
Front: 3
Walls: 2.5
Roof: 2.5
Floor: 2.5
16w x 16h
Hinged or Sliding
12w x 13h
Hinged or Sliding
12 x 12 x 8
Tru-Motion CRL
12,000
(1) The hot cell is mounted on a steel support stand. The height is adjustable in 2" increments
(2) The side door can be located on either (or both) side(s) of the hot cell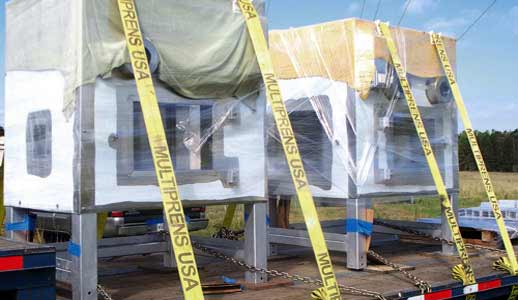 We take care of everything.
Ultraray Hot Cells can weigh up to 45,000 lbs. As you'd well imagine, shipping and installing can present quite a challenge. The good news is, we're there to take care of it for you!